Our Publications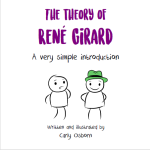 THE THEORY OF RENE GIRARD: A VERY SIMPLE INTRODUCTION by Carly Osborn.
If you'd like to understand the basics of the theory of René Girard without delving into a serious academic text, then this book was written for you.
It also has knights in armour, Batman, Greek tragedy, and hats.
Purchase through Amazon USA HERE or Amazon UK HERE or Booktopia Australia HERE . You can find it at most online book retailers. Your local bookshop can also order it for you: retailers should contact Ingram Content.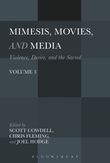 The AGS is proud to produce the Bloomsbury book series Violence, Desire and the Sacred, showcasing groundbreaking collections of essays that utilise mimetic theory for research in a broad range of disciplines.
From the Bloomsbury website:
"Violence, Desire, and the Sacred is a series dedicated to the global development of mimetic theory. It includes historical and theoretical studies aimed at reconstructing the human sciences—addressing new issues, seizing interdisciplinary opportunities, and tackling global problems. It also sets about demonstrating the practical relevance of mimetic theory. This series breaks new ground, especially as a vehicle for the emerging second generation of Girardian scholars."
See details and purchase books here.